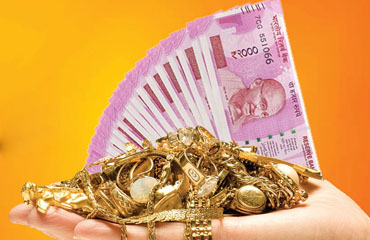 Over the past years, gold loans in India have seen a steep increase in popularity owing to its ease of acquisition as also extensive advertising done in its favor to introduce the concept of it being available for people of all strata of the society by mere means of possession of gold jewelry. One of the most important factors contributing to the rise in popularity of gold loans is that it is a better option for most short term monetary requirements in addition to having typically low rates of interest as compared to other personal loans. However, when opting for a gold loan, it is important for you as a responsible individual to find out certain aspects of this finance service and keep them in mind before going ahead.
Duration of your loan
One of the most crucial aspects about gold loan to keep in mind when opting for one is that they are, in most cases, suited best for short term cash requirements. That is to say that gold loans are typically extended for a period of one year or, at best, two years. Therefore, you must be confident of being able to repay the loan within that period of time, failing which, it is best for you to opt for a different scheme of personal loan.
Difference in rates of interest
It has already been established that rate of interest on gold loans is relatively lesser than personal loans. However, there is further difference in rates of interest when it comes to gold loans provided by the NBFC and the public sector banks. It must be understood that banks charge lower rate of interest when compared to NBFCs with public sector banks charging the lowest of all. Therefore, it is important that you try and avail your gold loan from a bank instead of an NBFC when you can help the decision. You can also consider taking a gold loan from your local jeweler at a meagre rate of interest provided you trust him enough to carry out the transaction with him.
Calculating gold value and loan amount
You must be aware that the amount of your gold loan is limited to about eighty to ninety percent of the value of your ornament that you mortgage against the amount. It must also be understood that while certain finance services assign loan amount based on the average value of gold over the past couple of weeks, some do it by means of taking into account the present day's gold value per gram. Therefore, the decision rests on you to decide which process is providing you with the better price.
Authenticity of lender
Since gold is one of the most priced possessions among professionals, it is important that you invest it with lenders and finance companies who have earned good repute in the market for their work. It is important that you are aware of the storage processes of your gold as also put the little paperwork that is associated with gold loans, in place.
Therefore, it is most important that you conduct research and only then venture into availing a gold loan when all of the above factors have been considered.